Wichtig / Important !
Da mit Google Chrome nur über Umwege Downloads möglich sind, wird empfohlen Firefox oder Opera zu nutzen. Es ist aber auch möglich Dateien unter Google Crome oder Edge herunterzuladen. Einfach rechter Click mit der Maustaste auf das Symbol bzw. Link "Download" und dann "Ziel speichern unter" wählen. Eventuell muss man noch die Downloads von der Seite erlauben.
English (google): Since downloads are only possible indirectly with Google Chrome, we recommend using Firefox or Opera. However, it is also possible to download files from Google Crome or Edge. Simply right click with the mouse button on the symbol or link "Download" and then select "Save target as". You may have to allow downloads from the site.
Informationen
Category: SS 3 Singleplayer
Downloads: 10

Mappack für SS3 von Kane Peterson
Produced by KanePeterson
German invasion of Canada? Chemical warfare on the Autobahn? Maus tanks delivered by train? 29 new custom missions for Sudden Strike 3 created in 2019 and 2020 are ready to be played
Take control of US troops in 1945 and stop the last German plan in the "Alpine Fortress" missions, or control the German troops and achieve the impossible - destroy all the Allied forces, recapture Germany, and continue the war in all directions until total victory. You'll be busy for hundreds of hours as you conquer the world!



Skirmish Kertsch (Sust3)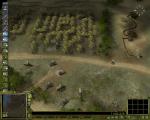 Name or Nickname: Tyketto / Feldpost
Mapname: Skirmish Kertsch 1.2
Mapgröße / Size: 1x1 Km
SP (SP Germany, Allies...): German vs Russia
Map (normal, update, without scripts): Skirmish
Sudden Strike Version (Sudden Strike 2, SS 3...) : SS 3
Szenario (summer, winter, desert...): Summer
Kampfart / Combat kind (tactical, tactical massbattle, massbattle): tactical
Mod: Batus

Mappack
Kampagnen:

- 389.Infantrie Division v1.5 von Tyketto/Frontteufel
- westfront 44/45 v1.3 (Batus Mod needed) von Ziesel

Singleplayermaps:

- Tigerkommando 1.3 (final) von Frontteufel
- Zariza 1.32 von Feldpost
- Zariza 1.4 (Batus Mod needed) von Feldpost
- Ville de Bocage v3 (final) von FrogsFriend
- Desert Rats v4 (final) von FrogsFriend
- Desert Ratz (Batus Mod needed) von FrogsFriend
- Huertgenwald v1.6 (final) von Ziesel
- Schlacht um Bastogne v1.3 von Frontteufel
- Operation Aberdeen v.021 (Batus Mod needed) von BolliBomber
- Sainte Marie du Mont v3 (final) von FrogsFriend
- Die Anhöhe v1.0 von Sirius
- Die letzte Spreu v1.0 (Batus Mod needed) von Feldpost
- Sword Beach v1.1 von Patrick8
- Bastogne (final) (Batus Mod needed) von Ziesel
- Schlacht im Huertgenwald (final) (Batus Mod needed) von Ziesel
- Aachen (final) (Batus Mod needed) von Ziesel
- Der Durchbruch (final) (Batus Mod needed) von Ziesel
- Maas (final) (Batus Mod needed) von Ziesel

Multiplayermaps:

- France 1940 (final) von smirnofski
- Loucelles 1.1 von Casquebleu
- ICP-03 (final) von hAbAkUk
- El Alamein (beta2) von hAbAkUk
- Winterday (beta3) von BolliBomber
- My Way - Cruel Edition (beta2) von SS1943
- CrossPoint les soldats inconnus von (lsi)bigdan
- Sainte-Marie-du-Mont (beta1) von Smirnofski
- La Gleize (Beta 3) von Casquebleu
- Summer Front (final) von -=ss=-

Eastfront

Kampagne38915a

SS 3 Singleplayer Bundle
Wir haben mal im Archiv gestöbert und ein kleines Bundle für Sudden Strike 3 Singleplayer Karten erstellt. Leider wurden für Sudden Strike 3 nicht viele Maps entwickelt.
Folgende Maps sind enthalten:
Westfront 2.0
Ville de Bocage Final V3
Tigerkommando 13 final
Operation Aberdeen
Initiation by fire
Hürtgenwald V1.6
France 1940
Die letzte Spreu
Desert Rats

Kampagne Westfront 1944/45
Kampagne "Westfront 1944/45" V2.0 für SS3
Erstellt von Ziesel.

Die Kampagne Westfront umfasst:

Die Schlacht um Aachen
Die Hölle im Hürtgenwald
Der Versorgungsengpass
Der Durchbruch in den Ardennen
Die Schlacht um Bastogne
Die Überquerung der Maas


1. Stelle sicher, das du mindestens den Batus-Mod V1.4 installiert hast
Wenn nicht, kannst du ihn hier runterladen!
2. Ordner "Media" ins Suddenstrike3 Hauptverzeichnis kopieren und evtl. alte Dateien ersetzen!
3. Ordner "Media" öffnen und Run-me1.1.bat Datei starten
4. Suddenstrike3 starten

Notwendig:
-Patch 1.4
-mindestens Batus_Mod 1.4

Desert Rats
Name: FrogsFriend
eMail: This email address is being protected from spambots. You need JavaScript enabled to view it.
Mapname: Desert Rats
Größe: 1km*1km
SP or MP: Singleplayer
SP : SP Allies/Alliierte
MP: ----
map: Normale Map
Version: Sudden Strike 3
Szenario: Wüste/Desert
Kampfart: taktisch/tactical
Mod: Kein Mod! / No Mod!
Homepage: www.sust3.de
Nachricht:
--------------------------------------------------------------
Briefing: "General, you have been given command of the finest troops in the 8th Army to spearhead the attack on the German lines at El Alamein and achieve a decisive breakthrough. Rommel's Afrikakorps and their Italian allies are well dug in and prepared for you. This will be a tough nut to crack but we have every confidence in your ability to succeed. Be bold and aggressive and lead your men to victory." Although this is based on a map of El Alamein and I've tried to limit the troops to those available in 1942, the mission is made up and not the actual battle of Elamein.
--------------------------------------------------------------

Die letzte Spreu...
Name: Feldpost
eMail: This email address is being protected from spambots. You need JavaScript enabled to view it.
Mapname: Die letzte Spreu...
Größe: 1x1 km
SP or MP: Singleplayer
SP : SP german/deutsch
MP: ----
map: Normale Map
Version: Sudden Strike 3
Szenario: Herbst/Autumn
Kampfart: taktisch/tactical
Mod: Kein Mod! / No Mod!
Homepage: sust3.de
Nachricht:
--------------------------------------------------------------
Deutsche Truppen haben die beiden Flugplätze Gumrak und Pitomnik eingenommen und dringen zum Zentrum Stalingrads in Richtung Wolga an der Zariza vor. Minen und Sperren der Verteidiger erschweren den Vormarsch. Mithilfe der frisch eingetroffen Pioniereinheiten...
--------------------------------------------------------------

Huertgenwald V. 1.6
Also hier meine Map:

Mapersteller: Ziesel
Suddenstrike 3
Grösse: 1km x 1km
SP Wehrmacht

Deutschland, Herbst 1944, in der Naehe der deutsch-belgischen Grenze. Der rasche Vorstoss der Allierten an der Westfront hat Sie von Ihren Truppen abgeschnitten. Munition und Treibstoff sind knapp. Sie befehligen einen Trupp versprengter Einheiten. Fuehren Sie Ihre Einheiten sicher an den Allierten vorbei und schliessen Sie sich den deutschen Truppen an.